Edgar Evans - Extempore

Edgar Evans - Extempore by Robert Little (ISBN 0-9543113-1-0; £12.50), available from Bob Little Press & PR, Amazon and The Endless Bookcase (e-book), is a biography of the opera singer – and principal tenor at Covent Garden from 1946 to 1975 - Edgar Evans.
Special Offer to website visitors: buy 'Extempore' direct from Bob Little Press & PR for less than half price!

A copy of Edgar Evans - Extempore (originally £12.50) will cost you just £6 (post and packing free).

Order a copy of The Canvas Chapel and Extempore for just £11 (post and packing free).

Simply send your order, with your cheque, to Website Reader Offer, Bob Little Press & PR, 23 Sherwood Avenue, St Albans, Herts, AL4 9QJ. By return, we'll send you your book(s).
Click here to order e-book from The Endless Bookcase
Alternatively click here for secure ordering using credit card

The story of the opera star Edgar Evans combines coincidence with a capacity for hard work that, in itself, would make an acceptable plot for an opera.

Edgar had been born and brought up on a farm in Cardiganshire in West Wales before the First World War. At the age of eight, he heard – on one of the early radios – a broadcast of Caruso, singing at Covent Garden. The image that 'Covent Garden' conjured up in Edgar's eight year old mind was one of flowers and palm trees. He thought that it would be nice to spend his life singing in such a paradise but there seemed to be no way in which it could ever happen.

A chance meeting in London, following an England v Wales rugby international at Twickenham, put Edgar on the road to becoming a professional singer.

Another chance meeting, when Edgar had mistaken the Royal Opera House for Fox's stage costumiers, resulted in him applying for an audition to join the opera company that was being re-formed there after the War.

It was a third chance meeting – at a party – that prompted Edgar to take up teaching singing, at the Royal College of Music, when his performing career came to an end.

Best remembered for creating the role of Hermann in Tchaikovsky's The Queen of Spades at the Royal Opera House, Covent Garden, Edgar Evans sang some 45 roles – most of them major ones - at Covent Garden from 1946 to 1975. In that time, he sang more roles and more performances at the Opera House than any other artist.

This book is not only Edgar's story – from farm to Garden – but it also offers insights into life in the inter-war years; the worlds of music and show business after the War, and the secrets of being able to sing opera successfully.

Book credits: Cover design by S&W Design, St Albans, Hertfordshire; Typeset by PJC Design Ltd, Northampton; Printed by Newman Thomson, Burgess Hill, West Sussex.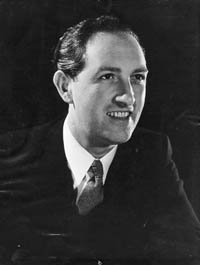 Edgar Evans, principal tenor at Covent Garden from 1946 to 1975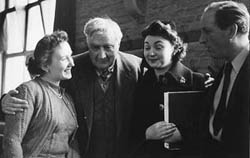 Edgar Evans with Vaughan Williams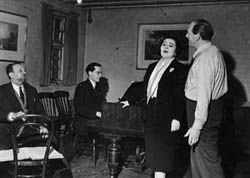 Edgar Evans rehearses at Covent Garden with the soprano, Victoria de los Angeles.