More than 40 commercial customers of Waste King – the specialist collection, clearance and recycling company based in Hemel Hempstead, UK – are have now switched from using skips to waste pods to segregate and remove their waste. Waste King's managing director, Glenn Currie, explained: "When it comes to waste storage and then recycling as much of that waste as possible, the waste pod is highly efficient and effective. In addition, each pod provides privacy and excellent security – since it consists of one solid sheet of metal that's difficult to break or climb.
"A waste pod acts as a solid barrier separating your waste from the outside world – and it can be customised in shape and size to each customer's particular needs. Moreover, waste pods can be used for almost all types of waste including electrical waste, TVs and fridges, plasterboard, batteries, light bulbs and fluorescent tubes," he continued.
"Customers from any industry are finding that waste pods are meeting their needs cost-effectively, compared with skips," said Glenn. "Besides, installing a waste pod is both easy and free; Waste King's licensed and insured operatives load all the waste, and there is a much greater chance of recycling all – or almost all – of the waste collected in the pod, so our customers become 'greener'!"
"In addition to being the same size but appreciably cheaper than a skip, waste pods take up no more space than a car and fit more or less anywhere," said Andy Cattigan, Waste King's operations director. "Importantly, these containers are particularly helpful for customers wanting to get rid of such things as WEEE, plasterboard and hazardous waste – which can be difficult to dispose of safely and legally via other means."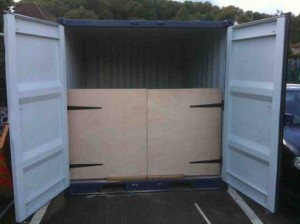 Comment: Reducing the use of skips has a number of benefits – it can be cheaper and more convenient for users, as well as being a lot more environmentally friendly – so it might be a positive thing for everyone if 'the day of the waste pod' has well and truly arrived.