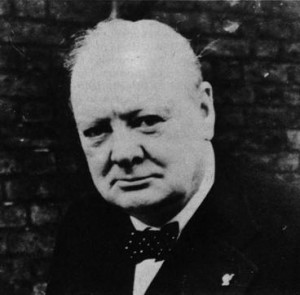 Quotes from Sir Winston Churchill were much in evidence at the official launch of APMG-International's certification scheme in Facilitation skills. The scheme, which aims to teach candidates how to design, apply and use specific processes and tools in order to increase the success of programmes and projects, was launched at the Cabinet War Rooms – Churchill's underground headquarters in Whitehall during the Second World War.
Opening proceedings, Richard Pharro, APMG-International's CEO, quoted Churchill's comment: 'It is not enough that we do our best. Sometimes we have to do what's required'. Richard argued that Facilitation skills are increasingly vital in all aspects of the economy in order to improve productivity; motivate and engage staff; maintain competitiveness and manage change – among other things – as economic austerity around the world continues to present challenges for organizations and individuals.
High quality facilitation management enables and empowers organizations to operate efficiently and effectively. Moreover, there is a strong moral and financial rationale to involve and engage – via facilitation skills – people who will be affected by big decisions.
Tony Mann, the internationally-known facilitator and the originator of the methodology on which APMG-International's Facilitation skills certification scheme is based, told the 60 or so guests at the launch that facilitation is not about 'tasks' but about providing a process. He observed: "People are good at thinking about tasks but not so good at thinking about process."
APMG's scheme offers facilitators the opportunity to be trained, assessed and certified in a similar way to project managers with Foundation and Practitioner qualifications. Indeed, Richard Pharro pointed out that Facilitation is a skill which is used in and helps to underpin almost every discipline that APMG covers. This includes not only project and change management but also benefits management and service management.
Already, a number of APMG-International's Approved Training Organizations (ATOs) have successfully undergone the process to be able to deliver the new Facilitation skills certification. Ranjit Sidhu, Principal Consultant at one of these APOs, ChangeQuest, commented: "The old 'command and control' style of management is becoming less effective, and groups need to work in a much more collaborative way. Facilitation skills are needed so that collaboration doesn't end up adding time and complexity and making the group less productive. This new qualification offers a robust process for practising the feedback models and communication techniques that lead to success."
The Facilitation certification is suitable for professionals of all disciplines, and is initially being offered at Foundation level, with the more advanced Practitioner qualification being planned for launch later this year. Ranjit added: "By enabling a smoother process for decision making and progress, facilitation can increase a group's productivity, resolve issues faster and improve the quality of the results.
"For organisations, the certification offers a consistent framework for solving problems through effective collaboration. It will help leaders guide groups through difficult challenges, and offers efficient ways for involving stakeholders at all levels.
"Individuals taking the course will learn about practical tools and techniques that help groups deal with uncertainty, solve problems and implement robust solutions in a timely way."