Three months after publishing a major report on some the world's leading e-learning markets – A Review of the e-learning markets of the UK, EU and China 2014 – Learning Light is  making sections of the report available to suit the information needs of a range of potential customers.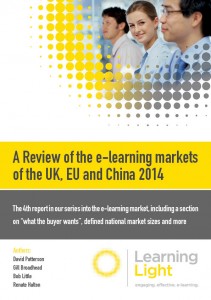 Learning Light director, David Patterson, explained: "Those wanting the Executive Summaries, including the table showing the size of each EU member country's e-learning industry, and the overview of the Chinese e-learning market, can now get this for just £350 plus VAT. This compares with the £1,200 + VAT which is the price for the full report."
The other report-purchasing options are:
The Executive Summary: £350 + VAT
The full report on the UK's e-learning industry: £550 + VAT
The full narrative on the e-learning industry in the UK and the rest of Europe: £800 + VAT
The full report on China, where e-learning is known as 'model digital education': £600 + VAT
"Naturally, we're continuing to sell the full report," said David, "but we know there are many organisations, especially those in the corporate sector, which want access to the specific parts of the report that relate to their business. This move is tailor made for them to get access to some highly valuable market information.
"Thanks to our previous Industry Reports, there are now comparable figures for this sector from 2007 and 2010 to go with the current figures from 2013 – so purchasers can trace industry trends over this period. There are also comparable figures, now, for countries in Europe from 2010 to 2013 – and, for the first time, the new report assesses the size and scope of the Chinese market for online learning technologies. As such, these series of Learning Light Reports make essential reading for all e-learning market analysts and commentators, as well as would-be successful entrepreneurs and operators in this sector."
Setting out the size and state of the online learning technologies markets in 20 European countries, including the UK, this latest in a line of similar reports first published in 2007 reveals that the UK's online learning technologies market is now only narrowly the largest national market in Europe. In addition, this report is the first one to study the Chinese market. This is significant because the Chinese economy is widely thought to be exerting an increasing influence over the world's economy.
"Our research suggests that China has a large and growing market for learning, as well as available budgets to provide that learning," said David.