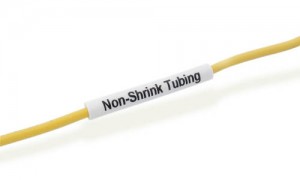 Silver Fox, a leading UK manufacturer of labelling solutions, has introduced Non-Shrink Tubing, an innovative and cost-effective wire marking solution. When producing the ferrules, the user can choose the length of label required – anything from 10mm to 110mm and even beyond, if needed. There is no limit on the number of characters on each label either.
Users can also print on two rolls at a time, using the special Universal Guidance System supplied with the printer. This ensures the optimum use of the non-shrink tube and the thermal ribbon – and saves time.
The special oval shape design of the Non-Shrink Tubing enables maximum grip on the wire, thus preventing the tubing from sliding down the wire while, at the same time, allowing the user to turn and leave the message in a position for easy reading now and in the future.
"A durable label, gripping the wire firmly so that the label tube doesn't turn or slide down the wire is extremely important in wire marking – and our Non-Shrink Tubing solution offers all of this," said Nick Michaelson, Silver Fox's CEO. "We're extremely proud of this solution, as it helps our customers save both time and money. It's also ideal for concurrent projects in the oil and gas industry, as unlike heat-shrink, no heat gun is required"
By taking advantage of the unique cross-ferruling functionality in the Professional version of the Silver Fox software and the option for printing two rolls of material at the same time on the printer, an engineer can produce both ends of a wire at the same time on the same print run.
"We invested thousands of hours, so the engineer doesn't need to!" said Nick Michaelson. "We've made sure it's all simple and straightforward to use – with one printer, one ribbon and one software. And there's no more time consuming set-up each time a label type is changed and no more wastage of labels. Just prepare the information, load the labels and print – job done!"
There are four sizes available – covering wire with diameters from 1mm to 6mm. Tubing for wire/cable of larger diameters is also being planned.