The Endless Bookcase – as part of its 'Endless History' series – has published a history of Pendley Manor, the former home of the BBC showjumping commentator, Dorian Williams, and now a hotel and conference centre. The book 'A Perspective on Pendley: a history of Pendley Manor' is available as an e-book: ASIN: B00LTZF5BY; some £3.84 + VAT from Amazon, Nook UK, Nook USA and The Endless Bookcase. It's also available in 'hard copy' form – ISBN: 978-1-908941-35-0; £12 – from The Endless Bookcase; Amazon; Pendley Manor and other distributors.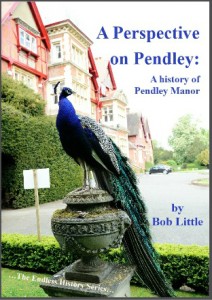 The book's author, Bob Little, who first visited Pendley as a boy to watch one of plays at its famed al fresco Shakespeare Festival, said: "Researching the book, writing it and bringing the whole project to fruition has been a time-travelling adventure. It's offered intriguing and sometimes enlightening glimpses into various historical periods – along with an idea of the part that Pendley played in influencing those periods.
"The research has revealed fascinating insights into the characters, now long dead, who've shaped the Manor's history. Hopefully, this book will yield up at least some of these insights to its readers," he added.
The book describes more than 1,700 years of Pendley history – from:
Ancient Britons and Romans, who settled this area at least some 1,700 years ago, to England's last great heathen King, the warlike and impressively vigorous, Penda, who seems to have given his name to this area, sired a child when he was aged 77 and died, in battle, aged 80;
An Anglo-Saxon nun, Eddeva, via William the Conqueror's half-brother, Robert, to Sir Robert Whittingham, who demolished mediaeval Pendley and built the first manor house in its place;
The Verney family and the 16th century's changeable politics, to the Andersons, who facilitated the initially illicit union which was to produce US President, George Washington;
The Harcourts who, in the end, didn't care about Pendley and let the old manor house be destroyed, and the trade-wealthy Grouts with their illegitimate heir, Lawrence Williams, who secured his family's fortune by marrying into his own family and then buying Pendley;
His son, JG – supervisor of the building of the new manor house, a successful agriculturalist who also shepherded his brother's children and, so, secured the future of Pendley for a century – to Dorian, the last of the Williams' line at Pendley;
The short-term ownership of David Evans and the Grass Roots Partnership to the current owner, Vinu Bhattessa, who's turned the place into a hotel and conference centre.
"Along the way, Pendley Manor acquired some peacocks, a famous Shakespeare Festival, a couple of ghosts and a host of stories," added Bob. "Many of these stories are unrecorded but some, at least, have come down to us through the ages – and are told within this book."
As an e-book, A Perspective on Pendley: a history of Pendley Manor, is available from Amazon, priced at £3.84 or $6.38. It's also available on the Endless Bookcase, Nook UK and, via Barnes & Noble, Nook USA sites. For details of the hard copy version of the book (112 pages, including 30 pages in colour), contact Pendley Manor on +44(0)1442 891891 or Bob Little Press & PR, bob.little@boblittlepr.com/ +44 (0)1727 860405.