Valerie Hannon, Sarah Gillinson and Leonie Shanks
Published by: Bloomsbury Qatar Foundation Publishing
ISBN: 978-99921-95-55-0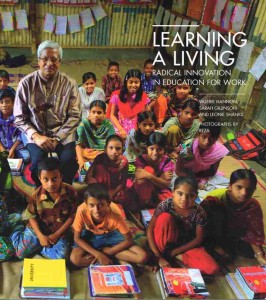 'Learning' is not a topic that has attracted many 'coffee table books' but Learning a Living fits the category perfectly. Beautifully illustrated with photographs by Reza Deghati, the book explores ways to rebuild the relationship between education and the world of work. Drawing on global lessons, the book – an initiative from The World Innovation Summit for Education (WISE) – addresses the issue of creating the 'right' employees by examining the purpose of education and its ideal relationship with growing, sustainable and successful economies.
There is little doubt that, at present, the worlds of education and world are not well connected. Businesses struggle to fill vacancies – yet there is unemployment and the numbers of recent graduates are higher than ever. With societies around the world facing increasing challenges, the education system doesn't appear to be producing the right numbers of people with the right skills to overcome these challenges.
Always upbeat and optimistic, Learning a Living advocates a way of improving the link between education and work – by getting rid of traditional academic and vocational divides and making education everyone's business. It suggests ways to not just produce productive employees but also motivate them to 'shape the future and make a difference'.
Using statistics, personal stories, 15 case studies and – of course – photographs from around the world, the book identifies initiatives, intending them to inspire others to apply their lessons.
In the unlikely event that readers are unaffected by the book's clear and concise arguments, they should be impressed by the stunning photography that accompanies them. Learning a Living deserves to grace many a coffee table – in both the academic and business worlds. It's probably too much to expect the sanity that it propounds to be widely acclaimed and accepted in practice – but many educationalists are visionaries and some businesspeople make visions come true. Maybe this book will bring some of them together.
By Bob Little