Best practice in change management is being revised, in readiness for a new set of change management qualifications.
The discipline of change management has become increasingly important as the pace of change – in both a work and society context – continues to gather pace. Change managers introduce or maintain change within their organizations and ensure it's successful. This is a key argument for training people – especially managers – in the principles of change management and their practical application.
In addition to dealing with organizational change, change managers are now finding their profession undergoing significant change, with the publication of a body of knowledge for change management (CMBoK).
The CMBoK is the product of work by the Australia-based Change Management Institute (CMI) and APMG-International, a leading Examination Institute which accredits training and consulting organizations and manages certification schemes for professionals.
A body of knowledge is a document produced by a professional association to describe and define the knowledge that underpins effective practice in a trade or profession. This CMBoK identifies the knowledge areas required to operate as a change manager. It also shows how these knowledge areas relate to each other and outlines their practical application, within the CMI competence model. The CMBoK supports the project level of the CMI Organizational Change Management Maturity Model. Among other things, this model, introduced in 2012, identifies three levels of maturity in change management: project change management; business change readiness and organizational change leadership.
Entitled 'The effective change manager' (ISBN 9780992362409; price £57), the CMBoK represents a new global standard in change management. It's based on CMI research which dates from 2008 and involves over 600 change management practitioners in 30 countries.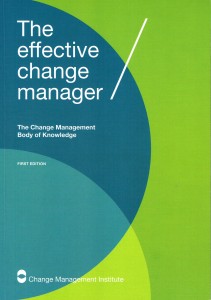 According to Richard Smith, APMG's Chief Examiner for Change Management and the CMBoK's Lead Author, the CMBoK provides a benchmark about what you should expect a change manager to know. Starting with the competence model – setting out what change managers do – the CMBoK goes on to explore the underpinning knowledge relating to each of these competencies. From this comes a framework for providing would-be change managers with the correct information and other inputs to enable them to do their job.
Guidance on how best to impart that knowledge should come this autumn, with 'the Book of the BoK' – the publication of a text which will form the basis for exams leading to change management qualifications. Already plans are in hand for a second edition of the CMBoK – based on feedback and new insights from the global change management community. In this way the book's producers aim to maintain a clear, current, convenient, coherent and valuable reference to what organizations require of an effective change manager.
Melanie Franklin, the author and speaker on change management who is also Director of the London-based consultancy, Agile Change Management, said: "Change Management is developing rapidly as a professional discipline. The CMBoK's publication is generating wide debate about the scope of knowledge required by effective change managers and the depth of knowledge needed in various related disciplines. The current CMBoK contains an excellent summary of the change management profession to date, including commentary on change management as an emerging profession; an inter-disciplinary profession, and a developing profession. The CMBoK is a fantastically helpful reference guide for anyone interested in managing change and business transformation initiatives."